3D Heart Hot Air Baloon Card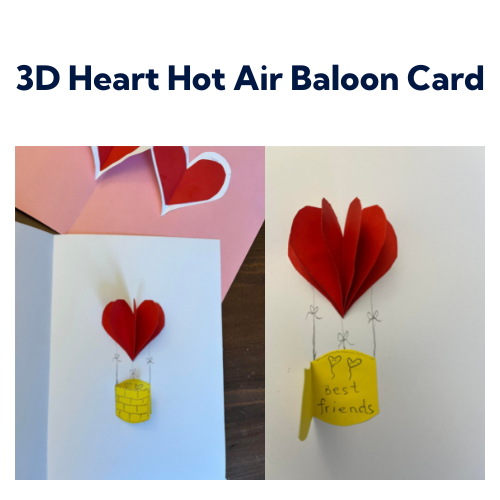 Description
Moderate-difficulty craft requires adult assistance for children with fine motor challenges, particularly cutting parts. This is a basic heart pop-up that you glue inside your card. Fold the paper in half and draw a half-heart that will be your measure for all 6 hearts. Trace and cut 6 red hearts. Fold six of the red hearts in half. Use your glue stick to add glue to one of the folded heart halves. Then glue another heart half onto it. Continue adding glue and a paper heart until all six are glued together, creating a 3D heart air balloon. Add a basket fold where you will write a message for your friend.
Strategies and techniques
In-person. Teletherapy with assistance.
License
Author
PDF download
Resource slide show
Grade levels
Grades 4 - 8
Themes
Daily Themes
Blends
None
Phonemes
None
Resource slides
Create a free Ambiki account to preview the slides of this PDF resource.