Resources
Search speech therapy, occupational therapy, physical therapy and feeding therapy resources for teletherapy and in person sessions
Also be sure to visit our Resource Calendar for easy session planning depending on the time of year.
2 resources
Emotions. Needs. Mindfulness. All About Me. Occupational Therapy. Dice Game. Teletherapy. Roll dice or use the Reaction 1 Die or Dice feature in Teletherapy. Anxiety. Calming strategy. Introduce br...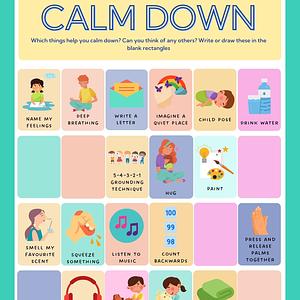 A one page Resource which can be used for sensory regulation, self regulation, and calming strategies. This template provides suggestions as well as space for the client to draw or write the things...
Browse resources
Safety (3)

Basic Concepts (80)

Community (66)

Leisure (43)

Weekly Themes (343)

Garden (7)

School Life (156)

Celebrations (263)

Daily Themes (246)

Imagination (29)

My Body (29)

Sports (35)

Daily Life (173)

Animals (66)

Daily Living (0)

Seasonal (551)

Body Parts (0)

Holidays (181)

Space (27)

Places (160)

Short Vowel

Long Vowel

R-Controlled Vowel

Consonant

Digraph

Diphthong